SidePaq - Easiest Everyday Pack To Carry Your Mobile, Glasses, Keys, Wallet, Bluetooth, Cash, Receipts ... Carry One, Carry All - Gray Color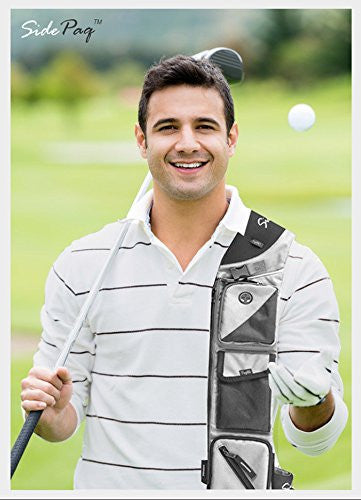 SidePaq - Easiest Everyday Pack To Carry Your Mobile, Glasses, Keys, Wallet, Bluetooth, Cash, Receipts ... Carry One, Carry All - Gray Color
Description
The new improved SidePaq ? (now with bigger pockets) is designed for urban look with ergonomics in mind to carry and access all your essentials effortlessly. The ease of wear and take-off combined with a powerful shoulder grip makes it ideal to carry it around on daily basis. You can wear it discreetly under a jacket or elegantly over a shirt for a great fit. Unlike shoulder bags with straps sliding down, SidePaq shoulder piece is designed to stay put without slipping in any direction regardless of weight of the items. The pouchless design of the bag promotes the natural hand movement while walking. SidePaq distributes the content along your body to have everything right at your finger tips. While listening to your favorite tunes off of a digital player in one pocket, you have access to many essentials, gadgets and personal care articles across several pockets. At Paqlite, we are committed to make your life on the go enjoyable by bringing you quality products that are light, practical and elegant. The art of travel starts with these key ingredients and features patent in every design that we make. Be it a short trip to your office or a long vacation away from home, there is enough stress on the road to wear you out. The comfort of knowing you have the right item with you will put your mind at ease to let you enjoy the trip rather than worrying about it OutPaq, SidePaq, SideTab , CrossTab, CrossPaq, WaistPaq, HipPaq, Zero-Slide are trademarks of Paqlite.
Features
MADE TO FIT- Even bigger phones! SidePaq boasts 18 easy-to-reach sizable pockets.(including 6 internal padded pockets , 6 external pockets with 2 pockets with magnetic flap closures and 2 zippered and glasses pocket, 2 ID display pockets, 2 mesh pockets, pen pocket, 1 checkbook pocket. If you would like to carry also a tablet, you may want to check out our other bags called SideTab or CrossTab.
EQUIPPED: Reflective tapes for safety at night on the shoulder piece, media port on the top zipper pocket, included optional elastic shoulder piece buckled strap included for situations where you need maximum grip (e.g. roller coaster), Buckled strap at waist for hanging items such as carabineer or keys.
ACCESSIBLE: Two main panels each with full zippers on the side (edge) allow you to slide in objects such as mobile or wallet in addition to external or back pockets. The zippers can be parked anywhere along the panels to provide more or less access to the inner compartments based on usage, easy of access, security or other preferences.
STRONG: 600D polyester material paired with feather-light low-profile pouchless design allows hands-free operation across many activities while walking, traveling, shopping, sight seeing and more.
SECURE: Paqlite's Zero-Slide TM anti-slip shoulder pad to keep it secure and comfortable on your shoulder while having all your essentials with you. (Wallet, mobile, Bluetooth, keys, pens, cash, receipts, tickets, passport, business cards. medicine, checkbook, lens case just to name a few). SideTab fits average build from 5 ft 3 in (160cm) to 6 ft (153cm) , For exact sizing please see attached picture. For additional sizes, color or other requests, please e mail Paqlite.